Amalia Sojo Brings Distinguished LCA Background, Extensive Software Knowledge to EarthShift Global
Played multi-faceted role in building one of the leading life cycle management and consulting firms serving Mexico, Latin America, and the Caribbean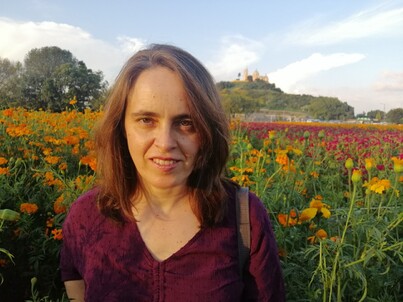 EarthShift Global is pleased to welcome Amalia Sojo as our newest Senior Sustainability Advisor. Amalia brings a wealth of capabilities to our team, including over two decades of sustainability and life cycle assessment (LCA) experience, project management skills, and an extensive background in one of the most important aspects of LCA implementation: software training and support.
After earning her bachelor's degree in industrial engineering, Amalia completed a post-graduate diploma course in sustainable development and began working as an analyst in her native Mexico before earning master's degrees in Spain: one in environmental engineering and management, and another in ecological economics and environmental management.

Back in Mexico, she worked at the University Tec de Monterrey before being recruited to join the Centro de Analisis de Ciclo de Vida y Diseno Sustentable (CADIS) at its inception in 2005.
She helped build CADIS into a leading life cycle management firm, working with companies, government agencies, and academic clients across Mexico, Latin America, and the Caribbean. Her efforts included integration of economic, environmental, and social considerations in large-scale projects.
"Working at the company during both its startup phase and subsequent expansion gave me the opportunity to play many different roles, from marketing to developing procedures and proposals, overseeing projects, almost everything," she recalls.
Over time, she increasingly focused on the company's sales, support, and training programs for SimaPro LCA software, including advising and problem-solving with clients. That work led her into developing training courses and managing the training team. One reason for the success of these efforts was her user-oriented approach to the learning experience. "We must focus on delivering the information in a way that is meaningful and useful for the learner," explains Amalia. "We want to empower them, so they can be the change-makers that we need."
Amalia adds that, in the overall quest to make human society more sustainable, "we need people from a variety of disciplines, like design, procurement, and engineering involved in LCA. It's a great tool, but sometimes it's seen as being just for specialists. However, anyone can work in LCA, we just have to provide the right methods and tools and make them approachable, so that many people from diverse backgrounds can work together and contribute."
Recent completion of a diploma course in Big Data & Data Mining gives Amalia additional perspective on methods for harnessing the massive amounts of data being generated in all walks of life for the benefit of the LCA community — including presentation of the results in accessible, useful form for decision-makers.
During her time in the sustainability community, Amalia has noticed a number of encouraging changes in thinking and mindset. "We're going from thinking about me and my projects, to me and my society, me and my environment," she notes. "There's a bigger perspective, not just among people in LCA but among everyone. The fact that enterprises like EarthShift Global have grown so much reflects what society wants. People have realized that we really need to tackle environmental degradation, that we need to work differently, buy differently, and take different approaches to our way of living before it's too late."
Amalia has known EarthShift Global founder and CEO Lise Laurin for about 15 years, and says she's gratified to join the company. "It's an amazing team; we work from several parts of the world but still feel together. I'm glad to be here and hope I can help make LCA information meaningful for everyone." She will be based in her hometown of Puebla, Mexico.