Bryton Moeller brings Human-Centered Design Skills to the EarthShift Global Team
Bryton Moeller, UX Designer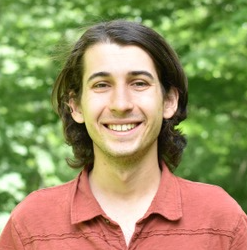 As part of our ongoing efforts to develop new life cycle assessment (LCA) capabilities for our clients, EarthShift Global is happy to welcome Bryton Moeller to our team as UX Designer. Bryton interned with us while earning a bachelor's degree in Design and Engineering from Dartmouth College and will be focused on making the LCA process more efficient and effective through development of custom tools for ESG clients and refinement of ESG's software.
"Sustainability is something I've been passionate about for a long time, and I enjoyed learning about LCA and data collection during my internship," says Bryton. "It's easy to think about environmental impacts in the abstract, but the process of preparing the data and designing the models quickly becomes a very complex, fascinating challenge."
That pursuit of accurate and complete data is one of the grand challenges of any LCA. As practitioners strive to develop the desired insights on schedule and within budget they often need to "artfully decide" how to handle imperfect data and when to invest additional effort to obtain greater precision, notes Bryton. Effective LCA tools can make the process more efficient, and easier for the practitioner. "Every hour that you spend frustrated with the tool you're using is an hour you don't spend making the model more accurate," they add.
"Organizing data is an art, and something that analysts do really well. I'm interested in how to build tools that facilitate the collection process in as pain-free and streamlined a way as possible and help catch the inevitable errors that come up."
Bryton's multidisciplinary studies have included multiple programming languages, engineering prototyping and development, and psychological/sociological analysis of how humans interact with computers, all of which contribute to an orientation towards human-centered design and design thinking. One milestone, achieved during a psychological research internship at the University of Zurich, was lead authorship of a publication in the Journal of Well-Being Assessment on development of a metric for individual confidence in overcoming barriers to pro-environmental behavior [https://link.springer.com/arti...].
The EarthShift Global internship experience provided Bryton with the opportunity to conduct firsthand research with high-skill LCA practitioners and understand their frame of mind as they go through different parts of the process, from obtaining accurate results to communicating them internally and externally. "I'm interested in how existing tools work or don't work, and also in what aspects of the process are fun and engaging and get people into a state of mind where they can be highly productive," they explain.
Bryton's decision to join EarthShift Global was influenced by that experience, and the sense that "people here are very accessible, always talking and sharing." And more broadly, says Bryton, CEO and founder Lise Laurin "has made it a company that cares about the quality of work being done in the space and is dedicated to making LCA better around the world, pushing the boundaries of what can be done."
A California native, Bryton now lives in Vermont; they are an active musician and avid outdoor sports enthusiast, with additional interests in woodworking, photography, cooking, and "fixing things, especially old bicycles."