EarthShift Global Analysts Amos Ncube and Purva Mhatre Shah Earn Their PhDs
EarthShift Global is proud to congratulate two of our teammates who have recently earned their doctorates in sustainability-related fields.
Senior Sustainability Analyst Amos Ncube now holds a PhD in Circular Economy and Sustainability from Parthenope University of Napoli, Italy.
Sustainability Analyst Purva Mhatre Shah received hers in Sustainability Management from the National Institute of Technology (NITIE), Mumbai, India.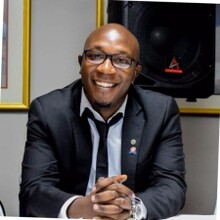 Amos's doctoral thesis, Potential Environmental Implications of the Circular Economy and Bioeconomy Transition in Different Industrial and Non-industrial Sectors, focuses on how environmental implications of circular economy (CE) and bioeconomy (BE) principles can be evaluated.
CE and BE "can potentially transform and disrupt the linear economy while aligning the environment with the economy for the benefit of human society and other species," explains Amos. "But the actual environmental benefits of these circular models have often been assumed rather than measured."
To remedy this, Amos's study calls for (among other measures) broad adoption and application of established environmental performance evaluation tools, such as Life Cycle Assessment (LCA) and EMergy Accounting (EMA), to ensure that new approaches are better than the business-as-usual model. "That can enable us to identify positive and negative environmental implications," he notes.
Amos credits the PhD process with providing "the opportunity to make a significant contribution to a field that is critical for creating a sustainable and resilient today and future. And being part of EarthShift Global is like a post-doctoral experience, as we constantly deal with new topic areas that require further research."
Purva's thesis, Transitioning to Circular Economy in Built Environment using Life Cycle Sustainability Assessment aims to build understanding of what happens when CE principles are adopted in the construction sector.
"I'm a civil engineer; buildings, bridges, and roads were all I studied during my bachelor's and master's work, and my primary motivation was to find solutions to optimize resource use and minimize emissions in the built environment," she explains.
With this in mind, Purva's research compares the economic, social, and environmental impacts of transitioning to circular economy in the construction sector, while also identifying barriers to circular economy adoption.
"Hope is what keeps me motivated for a better future, and this is possible only with more-sustainable practices," says Purva, who calls her doctorate "an important step towards the impact I want to create in the future. A lot of credibility is added when you have a PhD. I feel a great deal of accomplishment about it."
The intellectual prowess and diligence shown by Amos and Purva in their studies is also evident in their day-to-day work on behalf of EarthShift Global's clients, and we look forward to many more productive collaborations.