How Anticipatory LCA Fosters Innovation and Management Support for Sustainability and Circularity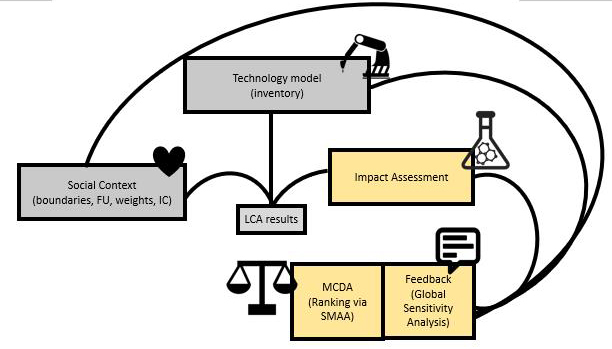 It's exciting to see new ideas advance through the R&D process. And, it's also an ideal moment for organizations to explore how circularity and sustainability can help generate better business opportunities when products or services reach market — a win-win proposition that can enable sustainability practitioners to garner attention and enthusiasm in the executive suite.
Anticipatory Life Cycle Assessment (A-LCA) is a powerful tool in this scenario, because in addition to revealing foreseeable negative consequences and identifying ways to improve a product's environmental profile, it's also capable of informing the thought process that goes into development of innovative business models.
Several examples of this can be found in a 2020 White Paper published by the leading tech company HP. Broadly focused on a circularity-oriented strategy of transitioning from traditional product sales to selling services, the case studies (which draw on A-LCAs conducted by EarthShift Global and other providers) also offer insights into synergies between sustainability considerations and business goals.
Tom Etheridge, EarthShift Global's senior sustainability advisor, was involved in the projects in his previous role as HP's worldwide life cycle assessment and carbon footprint program manager. He notes that applying A-LCA after general design parameters are set, but before information is available on final materials choices, production values, customer usage data, transportation logistics, etc., can result in better marketing plans and innovative business models.
"I witnessed this firsthand at HP; the three projects described in the white paper got an enthusiastic reception from upper management because they directly show the value of circular economy in different ways," says Etheridge.
For example, the A-LCA evaluation of HP's Instant Ink program, in which customers receive automatic shipments of printer ink based on their actual consumption, indicated lower environmental impacts than retail sales in all LCA categories, including 73% lower GHG emissions and 70% less water use. The primary drivers were "reduced materials use (higher capacity cartridges, less packaging, and higher recycling rates) and improved distribution efficiency (bulk shipping and avoided trips to the store)."
At the same time, HP told securities analysts in late 2021 that the Instant Ink program had attracted over 10 million subscribers with over 30% annual revenue growth. Even more importantly, the company found it was substantially boosting the lifetime value of a printer customer despite lower pricing, in part because of the ability to overlay additional services and paper sales.
Etheridge notes that the white paper also shows how replacing traditional transaction-based PC sales with a Device-as-a-Service model lowers environmental impacts for all LCA categories. This is mainly due to keeping PCs in use for multiple life cycles, which avoids manufacturing of additional devices and extends the life of high-value materials.
HP's example shows that alignment between environmental and economic considerations can be found, and that applying A-LCA at the appropriate stage of product R&D is an ideal way to help our organizations deliver on their green priorities.