Mariana Ortega-Ramirez to present at the 2022 Food Innovation and Engineering Conference
The Food Innovation and Engineering (Foodie) Conference will take place December 5th-6th at UC Davis, California. Organized by the American Institute of Chemical Engineers (AIChE), it will focus on emerging technologies for food production connecting industry and cuisine. Presenters share cutting-edge advancements involving nutrition products, processing technologies, and sustainability within the food system.
Mariana Ortega Ramirez, Sustainability Analyst with Earthshift Global, will be in attendance and presenting a poster of a Handprint study conducted on the cotton sector. Cotton represents 31% of all textiles, involving the lives of about 1 million farmers and thousands more people working in ginning, spinning, and garment manufacturing globally. The significant global presence of cotton means opportunities for improvement can have major impacts in the industry as well as the environment.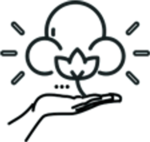 The interest in a Handprint study was sparked by a recent LCA study which showed a switch to cottonseed oil for use in frying French fries could reduce climate change impacts by up to 83% compared to soybean oil. This raised the question of what other cotton and cotton plant product benefits could be identified and measured; a Sustainability Return on Investment (S-ROI) analysis was determined to be an appropriate approach to answer this question.
The S-ROI methodology, developed out of the AIChE Total Cost Assessment Methodology approach, was used to examine the risks and opportunities of global cotton production and usage. A set of 20 indicators related to climate change, child labor, automation, residue valorization, and traceability among others were estimated either in monetary terms or by the number of people involved. All were analyzed in relation to the UN Sustainability Goals 2030 agenda.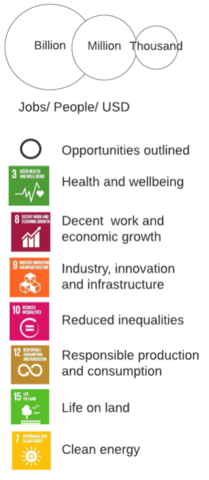 The study found that cotton's most immediate pressing risks, and therefore opportunities for improvement, are in the social dimension. Tradeoffs were identified; for example, jobs will be lost to automation in the midterm future, and this may be compensated to some extent by new job openings through increased cotton co-product valorization strategies. In some cases, the order of magnitude of risks is comparable to potential benefits. The more that other cotton plant products, such as seed oil and linters are used, the better the results for the cotton farmers and for the environment.
Overall, Handprints involving a mix of S-ROI and LCA allow looking more broadly at any sector. They are not only the means for showing the good that companies or sectors do, but also a tool for analysis in back casting for sustainable development.
Click here or contact us to learn more about S-ROI, Handprinting, and other LCA solutions.