Welcoming New Sustainability Analyst César Camou
Brings Materials, Electronics, and Business Experience to LCA and the EarthShift Global team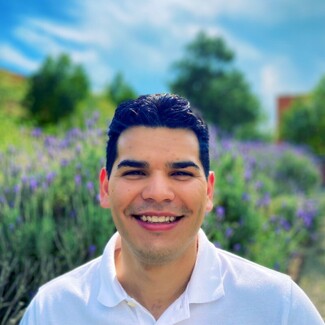 César Camou, EarthShift Global's newest Sustainability Analyst, began learning about sustainability and entrepreneurship at an early age by helping out at his father's electronics shop which specialized in professional video repairs.
"My dad let me play with components and learn to connect equipment; we saw firsthand the transition from analog electronics, which had long life and could be repaired, to digital, which mostly just required replacement," César recalls. "Later a friend and I started buying used electronic equipment to repair and resell, and it was shocking to see all that was being wasted. I became very interested in waste management and the environmental impacts it generates."
The experience prompted him to enter a bachelor's degree program in Sustainable Materials Science at the Universidad Nacional Autónoma de México, where his undergraduate thesis focused on recycling metals from broken smartphone screens. An LCA of the recycling process was a logical next step, and César was invited into an LCA-oriented working group by a professor who would become his adviser on a master's degree in Sustainability Science. In that program César met and worked with Joel Bonales Revuelta, who is now an EarthShift Global sustainability analyst, and began to focus his efforts on projects related to biomass and local production chains.
Since graduating, César has handled projects for large and small organizations in diverse sectors of the economy, including biofuels, electronics, and agriculture, and managed a major study of mezcal production for the state of Michoacan, Mexico.
While he enjoys the creativity and analytical work of LCA, César's favorite part is seeing findings put into practice. "The most satisfying thing is when you see methodologies developed through an LCA being used for decision-making at the start of a planning phase," he says. "I'm excited that the next generation of large companies is interested in making sustainability one of their growth pillars, and that many growing companies are also interested in the welfare of their work team and the jobs they generate — that contributes a lot to sustainability."
César's studies and teaching work in materials science and engineering led to the co-authorship of a book chapter focused on sustainability in materials, particularly the decision-making process for new technologies and components.
"It was an idea my master's advisor and I had, to show the concept of LCA from the perspective of undergraduate courses," he explains. "It explores how materials need to be defined in a social, political, and cultural context; this is because, beyond their intrinsic properties, they become part of products and technologies that have values and applications that are created by society. Understanding materials in this light is, I firmly believe, the best avenue towards adding the adjective 'sustainable' to technology and materials."
The mezcal study involved dozens of stakeholders, including growers of the agave plant, distillers, marketers, and government agencies. It required extensive planning and organization, as well as education to engage the involved parties.
"I applied my training as a teacher to explain in detail, and as many times as necessary, the link between LCA, sustainability, and the distilled beverages sector," recalls César. "It's a very interesting sector that is planning its growth based on sustainability and wants to compete with tequila in exports, especially because tequila production is already presenting very serious environmental problems at a regional level."
The project was a factor in César's decision to begin working in campaigns for Michoacán reforestation. "The forests are being devastated by the avocado production sector; I became sensitive to the cause because agave growers are being displaced from their land."
César also carries on supporting circular economy initiatives in electronics by participating in recycling and donation campaigns for waste electrical and electronic equipment in Guadalajara, repairing and refurbishing computers, cell phones, monitors, audio equipment, and other items that can then be donated to schools in disadvantaged communities in the state of Jalisco.
EarthShift Global welcomes César to our growing team and we look forward to his participation in many projects!