January 2023 Shift
O-LCA | Marine Plastics Webinar | Top 2022 Content | Upcoming Training
Organizational LCA Case Studies, Part 2:
How An Innovative Startup Uses O-LCA to Support Marketplace Messaging on Impact Reduction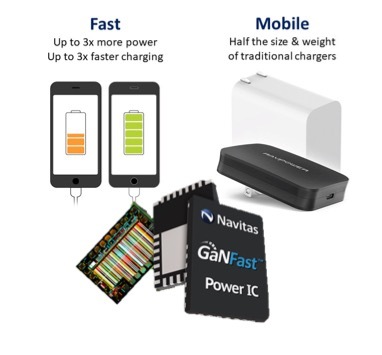 No matter the size of your company, achieving your sustainability goals requires awareness of where impacts occur - and identify specific operational and supply chain areas where measurable impact reduction is possible.
Uncovering this type of knowledge is the primary goal of organizational life cycle assessment (O-LCA), which applies life-cycle analysis principles on a macro scale. In the first installment of this series on clients who've recently conducted O-LCAs, we explored how the WD-40 Company used the methodology to deepen its understanding of its flagship WD-40 ® Multi-Use Product, and explore options for reducing its impact.
In this Part 2, we look at Navitas Semiconductor (Navitas), which is using O-LCA to support the introduction of innovative technology that could have wide-reaching benefits for energy consumption of rechargeable electronics.
Billions of plug-in chargers are made annually for phones, computers, and other devices, and device charging represents a significant portion of global electricity use. Navitas has developed chips for those power supplies that offer not only improved charging performance and lower cost, but also significantly greater efficiency — advantages that come from fabricating them on gallium nitride (GaN) and silicon carbide (SiC) rather than traditional silicon.

---
Free Webinar:
Impacts of Plastic Litter in LCA: Developments & New Findings


Date: Tuesday, January 17, 2022
Time: 1:00pm - 2:00pm ET
Presenter: Anne-Marie Boulay, Assistant Professor at Polytechnique Montreal
Description:

The presentation will show the updates of the working group MarILCA on impact pathway modelling, specially the new developments regarding the modelling of microplastic emissions characterization factors (CF) for the aquatic and marine environment, and give examples of their application in case studies.

Presenter Bio:
Professor Boulay is Assistant Professor at Polytechnique Montreal and co-directs the International Life Cycle Consortium of the CIRAIG, an international research partnership between Polytechnique Montreal and UQAM in Canada; and EPFL and HES-SO in Switzerland. She coordinated the WULCA working group to build consensus into achieving a harmonized method for assessing water use in LCA and is a co-founder and co-chair of the MarILCA (Marine Impacts in LCA) international working group supported by UNEP Life Cycle Initiative and FSLCI, leading the development of metrics to assess impacts for plastic emissions in the environment.


---
Top Webinars and Articles from 2022
EarthShift Global offers free webinars and content designed to share expert insights that inform impactful sustainability solutions. In 2022, our most highly viewed webinars were about planetary boundaries in LCA, critical reviews, plastics, and circularity. You can access all recorded webinars for free on our website and YouTube channel.
Our most read articles were about circularity, mineral criticality, and our new team members. We offer a broad and deep range of blogs, white papers, case studies, and other valuable resources on our website. We encourage you to access these resources and contact us if there is a topic you'd like us to explore in 2023.

---
Upcoming Training
Free 1 hour Introduction to Sustainable Return on Investment (S-ROI): January 10, 1023

Practical Life Cycle Assessment: January 17-18, 2023 (pre-recorded version also available on demand)
Organizational Life Cycle Assessment: January 24, 2023
Sustainable Return on Investment (S-ROI): February 15, 2023

Learn more about these and other courses here.