March 2023 Shift
Biogenic Carbon Webinar | Bemis LCA Applications | Custom LCA Training | Upcoming Training
Free Webinar - Part 2:
Understanding Biogenic Carbon: The Science and Application of Biogenic Carbon in Life Cycle Assessment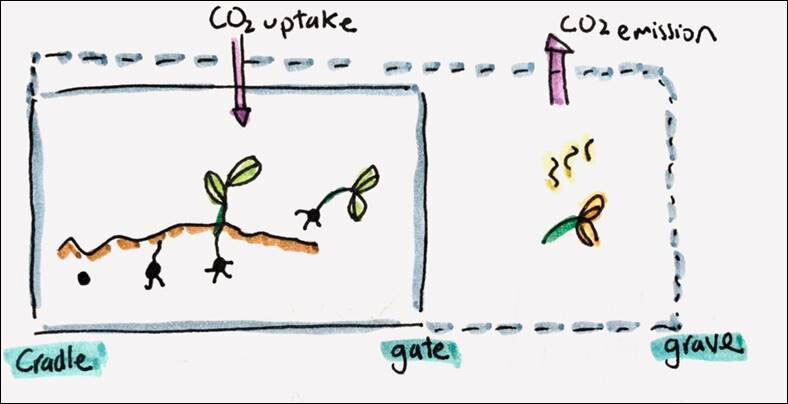 DATE: March 9, 2023
TIME: 1:00pm - 2:00pm ET
PRESENTERS: Nathan Ayer, Caroline Taylor
DESCRIPTION:
Biogenic carbon is carbon that is derived from organic matter, absorbed and released to the atmosphere through biologically-mediated processes in current-era timescales. Current assumptions about the benefits of leveraging the biogenic carbon cycle and biogenic carbon storage have contributed to the global momentum to shift towards a bioeconomy, with bioeconomy concepts underpinning over half of the United Nations Sustainable Development Goals (UNSDGs), as well as being an important element underpinning carbon offsets and credits. The management and modeling of biogenic carbon flows are increasingly at the center of policy, technology, and product development aimed at reducing flows of carbon to the atmosphere and mitigating climate change.
Approaches used to account for biogenic carbon in tools such as life cycle assessment (LCA) are currently lacking in consistency and transparency, and at times are not consistent with the science on biogenic carbon flows. As such, it is increasingly important to understand the science and application of biogenic carbon modeling to avoid misleading results, poorly-targeted policies and innovation, and unintended consequences.
This is the second of a two-part series on the science and application of biogenic carbon in LCA. This first session explored the basic LCA-relevant scientific background on biogenic carbon and how to understand biogenic carbon flows between the environment and human systems and touch on emerging science. The second part of this series will provide an overview of common approaches, misconceptions, examples, and practical implications of modeling biogenic carbon in LCAs of products and systems.
PRESENTER BIOS:
Dr. Nathan Ayer is a Senior Sustainability Advisor at EarthShift Global and has been working in LCA for over 16 years. Nathan is also an Instructor at Dalhousie University where he teaches courses in Sustainability and Ecological Economics. Nathan is a Certified LCA Practitioner (LCACP) under the American Center for Life Cycle Assessment (ACLCA) and has published several papers relating to the modeling of biogenic carbon in forestry and forest bioenergy systems.
Dr. Caroline Taylor is currently serving as Assessment and Policy Research Fellow with the Centre for Sustainable & Circular Technologies at the University of Bath, is a member of the ACLCA's Policy Committee, and has a long affiliation with EarthShift Global. Caroline has more than 20 years of experience in modeling and analysis, much of it in sustainability and LCA. As an early-career scientist she studied behavior in interfacial fluid and plant systems, and since moving fully into sustainability has worked extensively on crop systems and bioenergy/bioproducts in LCA.

Access to Webinar Registration Link and Recordings

---
How Innovative Materials Developer Bemis Uses LCA to "Ground Our Decision-Making in Science and Facts"

Photo Credit: Bemis Associates
The pursuit of impact reduction across a product's life cycle can be a complex task, even for companies with a deep-rooted culture of innovation and problem-solving. One example: Bemis Associates, which has a 110-year history of tackling materials-related challenges for specialized applications, including waterproofing seam tape. Bemis's line of waterproofing seam tape for two-layer fabrics, 2L Seam Tape, is an integral element in a wide range of high-performance products, including outdoor gear, protective industrial clothing, tents and packs, and military equipment.
As part of its long-term Social and Environmental Responsibility strategy launched in 2017, Bemis recently partnered with EarthShift Global on a screening life cycle assessment (LCA) of the seam tape to identify impact hotspots and possible opportunities for improvement. The resulting data and insights have already proved valuable.
"Introducing LCAs and analysis into our business, and using them to think about our products and operations, is a relatively new approach for us. This is the first major one we've conducted," says Ben Howard, Bemis's Director of Sustainability. "One of challenges we have noticed is that it's easy for people to have different opinions and assumptions about where our impacts come from and what we should be working on. LCA is helping to ground our priorities and decision-making in science and facts, so that we can focus on driving change to make the greatest impact.
---
Learn LCA More Effectively and Efficiently from Experienced ESG LCA Analysts
EarthShift Global offers more than cutting edge LCA analysis - we also offer beginning and advanced LCA training for teams and individuals. Our training sessions are always led by highly experienced LCA analysts and customized to meet the specific interests of attendees, including your choice of topics and LCA tool (such as SimaPro, GaBi, or Open LCA).
We've trained corporate teams across a range of industries. If you need to build your LCA analytical capabilities, we can help!
Contact us today to learn more about our custom group and individual training options. We offer discounted pricing for 3 or more people from the same organization.
---
Upcoming Training
Sustainability in Package Design: March 14-15, 2023
Handling Recycling in Life Cycle Assessment: March 29, 2023
Impact Assessment Methods: April 18, 2023

Introduction to Life Cycle Assessment: April 25-26, 2023
Learn more about these and other courses here.