October 2023 The Shift e-newsletter
Supply Chain Webinar | Getting Supplier Data | ACLCA | Upcoming Training
Free Webinar

Supply Chain Management for Circular Economy in Latin America: RedES-CAR in Colombia


DATE: October 12, 2023

TIME: 1-2pm ET
PRESENTER: Dr. Bart von Hoof, Ph.D.,
School of Management, Universidad de los Andes, Bogotá, Colombia
DESCRIPTION:
This presentation describes a supply chain programme for the dissemination of circular economy strategies such as cleaner production and industrial symbiosis in an emerging market context.
The Sustainable Enterprise Network methodology (RedES) included a triple helix partnership, sponsored by a regional environmental authority (Corporacio?n Auto?noma Regional de Cundinamarca, CAR), operated by Universidad de los Andes School of Management (UASM) together with four other universities to introduce circular economy strategies in 335 private companies. The RedES-CAR experience shows how supply chain models contribute to sustainability in environmentally and socially vulnerable contexts by enhancing dissemination and collaboration among a critical mass of companies, universities and environmental authorities.
The presentation highlights the RedES-CAR programme's key features, benefits obtained by participating firms, and lessons learned, thus contributing to the understanding of methodologies to disseminate circular economy tools in supply chains in emerging markets.
PRESENTER BIO:
Bart van Hoof is an Associate Professor at the School of Management, Universidad de los Andes in Bogotá, Colombia. He holds a Ph.D. in Industrial Ecology from Erasmus University in Rotterdam. His research and teaching interests are focused on dissemination of environmental management practices in industrial, and agri-food systems in emerging markets. He has served as senior advisor of the National Strategies on Circular Economy of the Colombian, Uruguayan and Peruvian governments, as the environmental director of Eco-petrol and worked as a consultant in the design and implementation of diffusion mechanisms for environmental management in Colombia, Peru, Paraguay, Panama, Mexico, Chile, Kenya and the Netherlands.
---
Having Trouble Obtaining Supply Chain Data for an LCA? Here's An Experienced Analyst's Advice on Ways to Get It

Data is the life blood of any life cycle assessment (LCA), and with Scope 3 impacts often accounting for a substantial portion of the overall total, obtaining information from suppliers to a company or organization can be critically important.
This is an area where sustainability consultants like EarthShift Global play a valuable role, because confidentiality concerns typically make it impossible for a company to directly obtain supplier information. Consultants can get the data under non-disclosure and share it in an aggregated form — but doing so successfully often requires some special skills and techniques.
We asked EarthShift Global sustainability analyst Mariana Ortega Ramirez about her experiences obtaining supply chain data; her insights provide helpful guidance for practitioners who need to create new lines of upstream communication for critical Scope 3 analyses.
---
Earthshift Global Supports the Future of Life Cycle Assessment

EarthShift Global (ESG) was a leading contributor to the ACLCA Institute and Annual Conference held September 25-28th in Burlington, VT.
The ACLCA Institute was chaired by Tom Etheridge, ESG Senior Sustainability Advisor. In this role, Tom researches and invites LCA contributors to share their knowledge and expertise to ACLCA Institute presenters. Among this year's presenters were Lise Laurin, ESG CEO who presented on the Use of Underspecification in LCA with Randy Kirchain from MIT. Also presenting at the conference were Nathan Ayer, ESG Director of Analytical Services and Bryton Moeller, ESG Design & Project Lead.
Earthshift Global sponsored the overall event as well as the student poster contest which recognizes up and coming LCA contributors. Congratulations to the student poster winners Andrea Boera Vera (1st), Yisen Wang (2nd), and Sofia Bahmutskly (3rd). Andrea's winning poster focused on energy resilience in Puerto Rico and the trade-offs of building-integrated solar PV.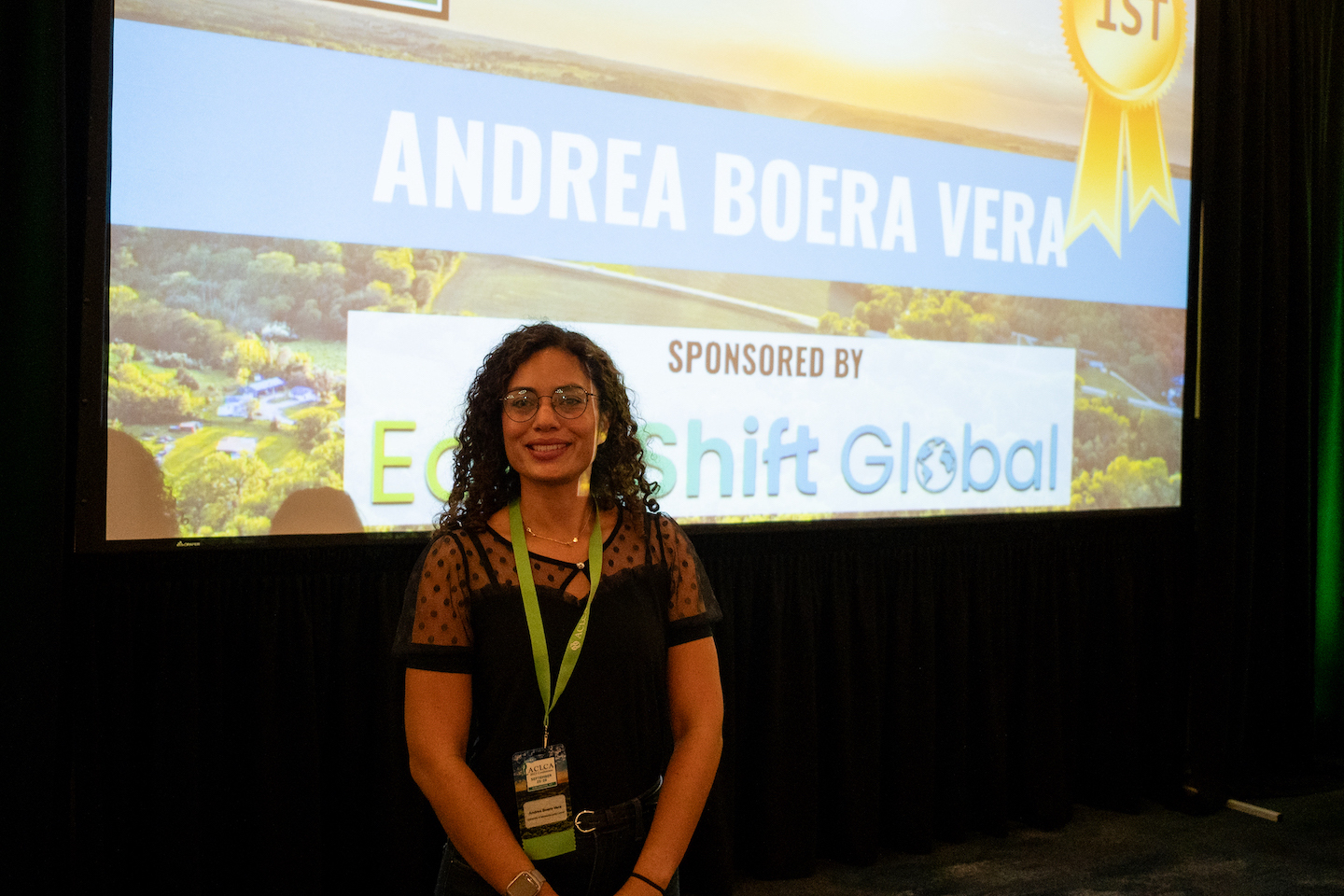 Photo credit: Tess Konnovitch
---
Upcoming Online Training


Introduction to Life Cycle Assessment
October 4-5, 2023
Integrating Sustainability into the Organization
Sustainable Return on Investment (S-ROI)
November 1, 2023
Advanced Life Cycle Assessment - Interpretation
November 7-8, 2023
Social Impact Assessment - Sustainability ROI
November 8-9, 2023
Methods of Evaluating the Social and Economic Pillars of Sustainability
November 30, 2023