3Pillars S-ROI Software
Help Professionals From Across Your Organization Collaborate on Achieving Financial Goals While Maintaining a Commitment to Sustainability.
Manage Your Triple Bottom Line with 3Pillars Sustainability ROI Software

Economics, Society, and the Environment are the three pillars of sustainable business.
EarthShift Global's 3Pillars software, the only general-purpose S-ROI tool on the market, helps professionals from across your organization collaborate on achieving financial goals while maintaining a commitment to sustainability.

Implementing the principles of Sustainability ROI (S-ROI) is a powerful process. With 3Pillars, you can see your business from the perspectives of multiple shareholders, assess and compare investment opportunities, and justify your commitments to socially and environmentally responsible corporate or institutional activity, while minimizing risk and maximizing profitability.


Advanced Analysis, Engineered to Fit Your Process
EarthShift Global, a pioneer of S-ROI, has helped over a dozen organizations conduct their own analyses, and 3Pillars reflects our knowledge of both the process and the need for reliable, flexible capturing of relevant data – it walks you through the exploration. This convenient software framework helps you analyze potential returns from environmental, social, and financial perspectives for each stakeholder involved.
We've engineered 3Pillars to support whichever type of S-ROI engagement your company prefers – in-person workshops where multiple affected stakeholders gather physically in a room to assess a project or situation, or virtual discussions that link participants from diverse locations.
Whatever methodology you choose, the 3Pillars software platform applies advanced uncertainty and probability analysis and social networking tools to ensure that everyone's input is welcomed and that all the data can be conveniently reviewed and analyzed. Alternatives, scenarios, and costs, and benefits are easily entered into a simple and intuitive graphic user interface.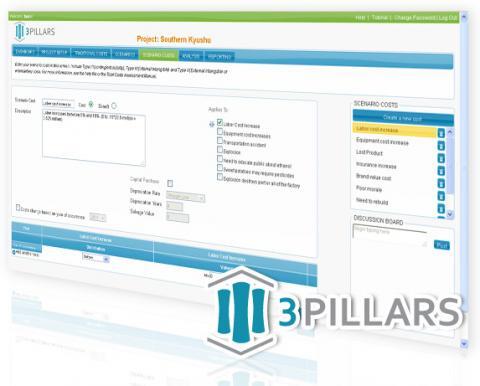 With 3Pillars, you can utilize a continually updated database of social and environmental costs and factor in uncertainties, such as the cost of energy in future years.
You can also consider long causal chains – for example, an important facility on the Gulf Coast might face a 3 percent probability of a hurricane strike in any given year. If a strike occurs, there might be a 50 percent probability of flooding. If flooding occurs, there might be a 10 percent probability of hazardous chemicals entering the watershed. If chemicals enter the watershed, there might be a 15 percent probability of getting sued, with typical damage awards running between $10,000 and $1.2 million. End result: you get a clear vision of your specific big-picture risks and opportunities.
Benefits of 3Pillars Software
Guides the facilitator through data entry for costs, benefits, and scenarios for rapid modeling and robust analysis
Enables multiple stakeholders or their representatives to comment on costs and scenarios through an easy, online interface
Facilitates online discussion to supplement or replace the need for an in-person workshop
Gives you the ability to include uncertain and intangible costs and benefits, including externalities
Allows you to identify and evaluate potential alternatives to the decision being analyzed
Provides the flexibility to analyze many different types of projects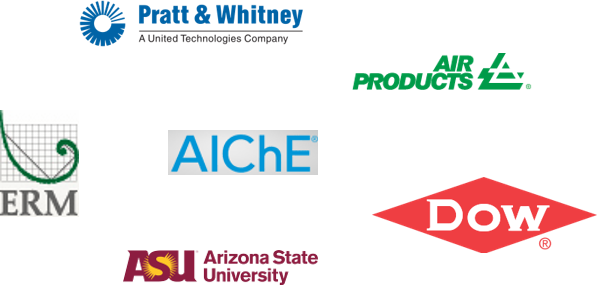 The 3Pillars tool includes a powerful Monte Carlo analysis capability, which gives decision-makers an understanding of the full range of possible results including best-case, worst-case and most-probable outcomes. Models can be copied and modified to reflect results for different stakeholders.
3 Pillars Features Include
Dashboard for an at-a-glance view of projects and results
Online format for easy use by multiple stakeholders or their representatives around the globe, including copy function to facilitate stakeholder analysis
Modeling of traditional return on investment using both certain and uncertain costs
Capability to include capital investments with a variety of depreciation schedules
Ability to model uncertain events using clearly identified scenarios, and to cascade those probabilities
Inclusion of Type I, II, III, IV, and V costs of the Total Cost Assessment and S-ROI methodologies
Probabilities and probability ranges for scenarios
Ability to enter costs and benefits using various uncertainties:

No uncertainty
Lognormal
Normal
Uniform
Triangular
Beta
Allows multiple assessment results:

By costs
By cost type (traditional or contingent/intangible)
By NPV by Cost
By NPV by Scenario
By NPV by Alternative
Ability to define discount rate, tax rate, analysis before or after taxes

3Pillars Allows Users to:

See an At-a-Glance View of Projects and Results
Dashboard view of all active projects.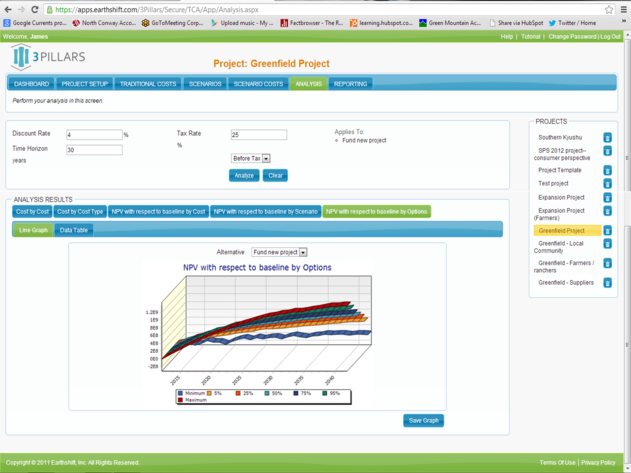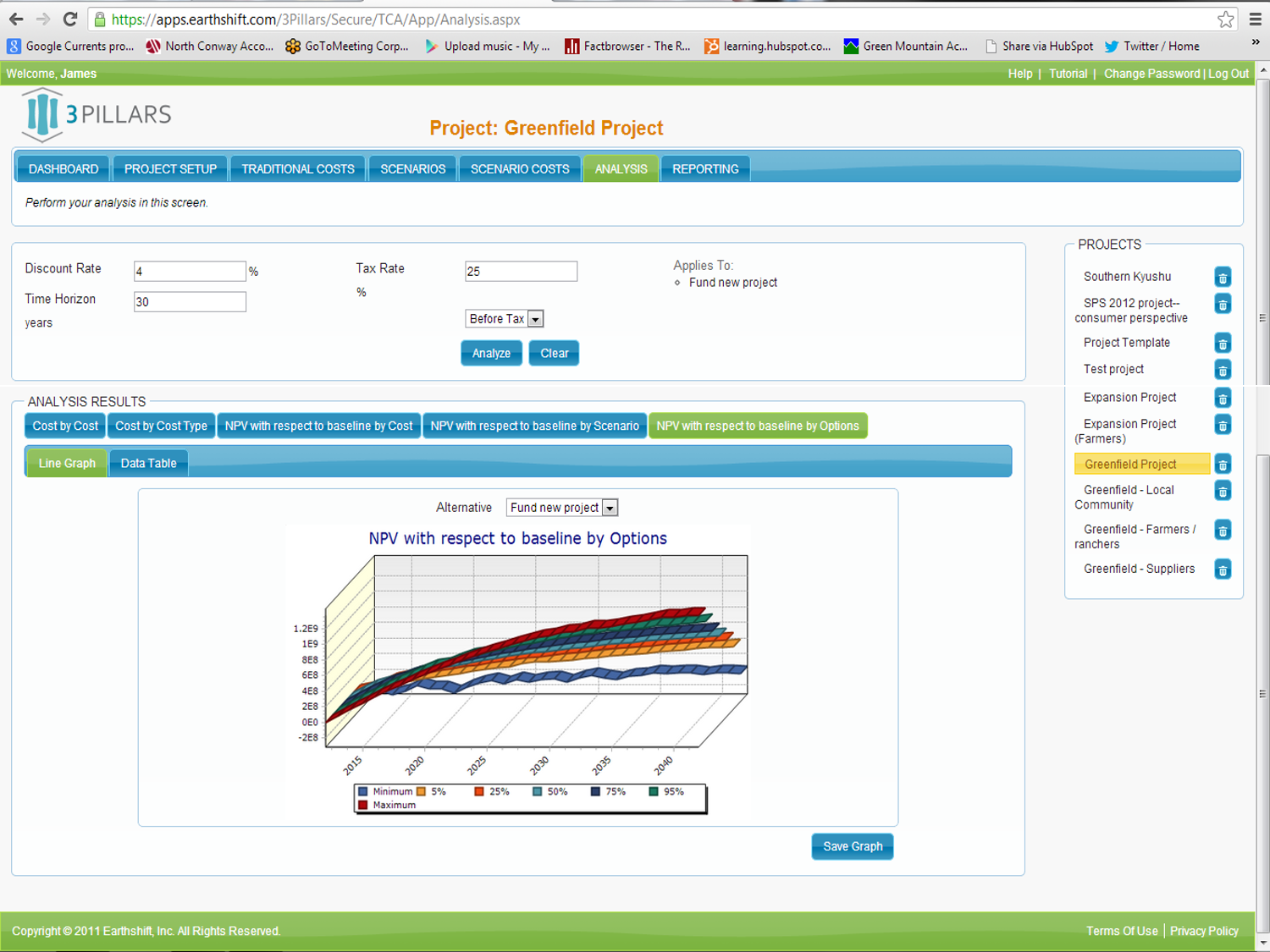 Ability to Model Uncertain Events Using Clearly Identified Scenarios
3Pillars includes a template project with over 30 examples of scenarios, that you can use to get started. All scenario costs are fully documented to inform your project.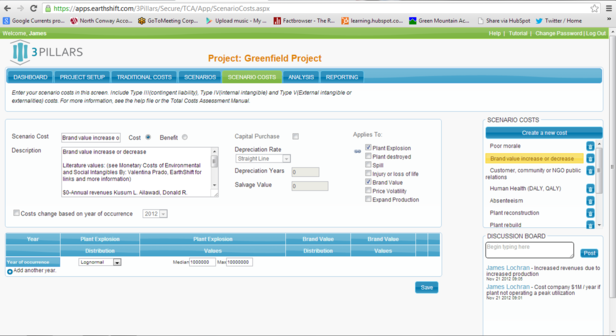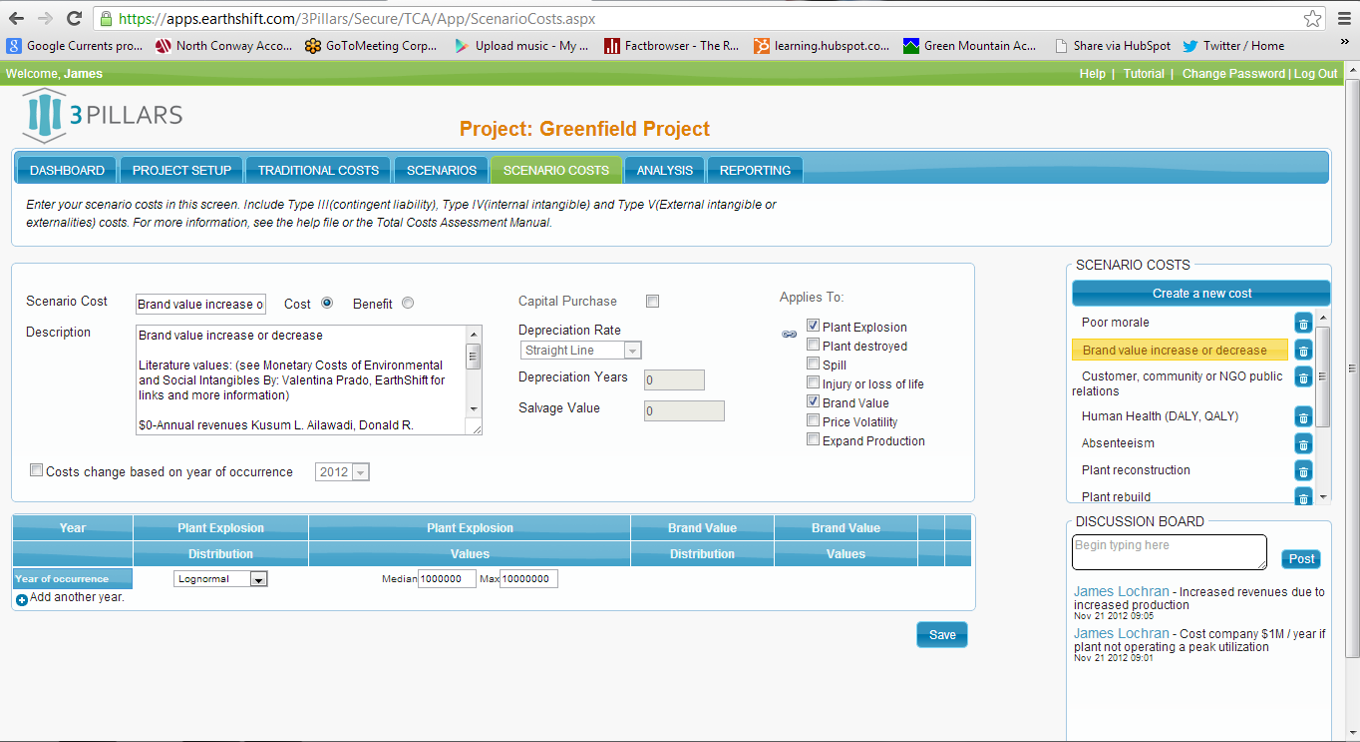 Sustainable-ROI (S-ROI) Training and Consulting Services – Apply Our Expertise in Your Organization
Our S-ROI training classes are the ultimate partnership for effective implementation of new skills needed for a project or applying them within your organization's unique environment. Over the years we've helped sustainability professionals build their skills and provide actionable results during demanding periods on the job, and are ready to help you, too – online, at one of our training centers, or one-on-one.