PackageSmart LCA Software for Sustainable Package Design
In Packaging Design, Small Decisions Can Have Big Environmental Consequences
Making the right choices is easier with PackageSmart – the most powerful and convenient packaging Life Cycle Assessment (LCA) software
Some aspects of sustainable packaging are required by regulators while others are decisions made by each packager. The criterion for ranking and comparing packaging based on sustainability is an active area of development. General guidance, metrics, checklists, and scorecards are being published by several groups, but in general, it has become apparent and agreed upon by the industry that truly sustainable packaging involves the use of life cycle thinking and life cycle assessment (LCA) to help guide the design.
"PackageSmart has done exactly what I needed it to do and I have been totally satisfied with it."

- Jeff Yorzyk, Director of Sustainability, Green Chef
LCA helps packaging designers to evaluate the environmental impacts of their design decisions and clearly depict where and what changes could be made. For some this may bring focus to durability and re-use and for others lightweighting or biodegradeability. EarthShift Global has developed a simplified LCA software, PackageSmart, that speaks the language of Packaging Designers and allows them to easily compare design as well as material decisions during the conception phase when the cost of change is still low.
World-Class LCA Capabilities, Easily Applied
Unlike any other packaging impact assessment application, PackageSmart combines user-friendliness with over 8000 internationally verified datasets. It's easy to bring robust LCA capabilities to bear on the unique challenges that your team faces — package designers, engineers, and managers can quickly get an informed perspective on materials choices, manufacturing processes, and design options. And because PackageSmart is cloud-based, the datasets, methods, and the application itself are continually updated, ensuring the most up-to-date capabilities and accurate analyses.
"I have taught packaging sustainability since Spring 2008 to MSU packaging students. The main goal of this course is to evaluate the environmental footprint of product/packaging systems using LCA concepts and streamlined LCA software. After using many types of software, I have found that PackageSmart does a great job of encouraging system thinking and developing a product/packaging life-cycle perspective among my students."— Rafael Auras, Ph.D., Associate Professor, School of Packaging, Michigan State University

Is PackageSmart Really, ". . . by far the easiest to use LCA software on the market? "
That's the opinion of longtime user and packaging plant manager Dan Robinette, who had his first experience with PackageSmart while serving as director of sustainability for a full-service producer of flexible film and paper packaging. When Dan began using PackageSmart he told us, "I was not experienced in LCAs, yet I was creating full cradle-to-grave models in the first week." Ease of use is a priority for EarthShift Global because we don't just want to sell software. Our personal values and aspirations motivate us to help you and your colleagues develop outstanding packaging with the lowest possible environmental impact. Why? Because in this particular area, self-interest, business interests, and societal interests quickly become indistinguishable.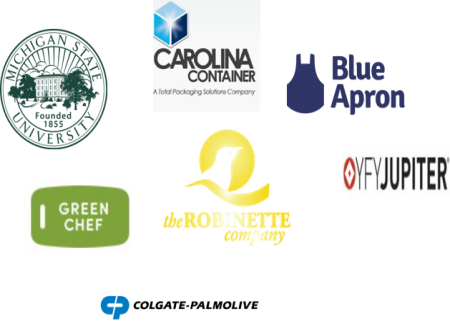 PackageSmart's Key Features
Intuitive web-based application
Scenario-based analysis
Comparative analysis
Cube utilization
What Makes PackageSmart so User-friendly?
When EarthShift Global set out to create a packaging LCA application, we had a single goal: make LCA capabilities easily accessible to design professionals, in a format that fits the creative process and speaks the designer's language.
We wanted to make it easy to analyze packaging options early in the process when design freedom is high and the cost of change is low.
Organizations have benefitted from the use of PackageSmart
The big challenge is simplification without compromising accuracy and depth – and that's why we're so proud of PackageSmart's user interface. Using a convenient Web-based application, a designer can build a Packaging System that includes primary, secondary, and tertiary packaging elements, as well as transportation considerations for materials and distribution.
Working with packaging engineers at Colgate-Palmolive and other top-tier enterprises, we customized PackageSmart with terminology and data understandable to packaging engineers. We then collaborated on testing with professors Rafael Auras and Susan Selke at Michigan State University's outstanding School of Packaging, optimizing PackageSmart based on feedback from them and packaging engineering students.
Built-in parametric modeling allows evaluation of different scenarios and assumptions, and comparison of as-built designs to new iterations, to isolate areas of environmental impact improvement.
For a taste of how this works, take a look at our collection of online tutorials and videos – they're designed to help designers get up to speed in packaging LCA pronto, and to give advanced users even more analytical options. And for even more perspective, we offer an online professional education course, Sustainability in Package Design, co-developed with Rafael Auras.

"I was not experienced in LCAs before PackageSmart, yet I was creating full cradle to grave models in the first week. PackageSmart is by far the easiest to use LCA software on the market!"

— Dan Robinette, The Robinette Company
What Kinds of Questions Can be Answered with PackageSmart?
What happens if the design uses less material? (Scenario-based Analysis)
Is material 'A' superior to material 'B' from an environmental life cycle perspective?
Are recycled materials more environmentally friendly in this application? (Comparative Analysis)
Does this design maximize transport efficiency? (Cube Utilization)
How do varying recycle rates affect end-of-life impact? (Custom Recycling Analysis)
What are the biggest sources of impact, and what are the alternatives? (Environmental Hot-Spot Analysis)
How does this package design stack up in terms of carbon footprint, water footprint, or nitrogen footprint?
Before we begin development, are we sure that a redesign will be better than the original from an environmental perspective?
How About Sharing Findings from PackageSmart?
We understand that winning buy-in from co-workers, managers, and suppliers — and the trust of your customers — are critical steps in the packaging LCA process. So we built in an integrated reporting engine that simplifies that sharing of results. You can export tables into Excel and save charts or create custom reports with the powerful Report Writer, which allows the creation of your own custom templates for consistency across projects. Best of all, you can be confident that your analyses will withstand rigorous scrutiny, because PackageSmart utilizes Life Cycle Inventory (LCI) data from over 8,000 processes in the eco-invent and USLCI databases — internationally accepted sources. You can also import LCI data from your own facilities and suppliers, to get even higher levels of accuracy.

Get Started Today... We'll Make It Easy with our Free 7-Day Trial Account.