PackageSmart - Built for LCA Design Integration
Five Things to Know About Building Packaging Life Cycle Assessment (LCA) Into Your Design Process
PackageSmart is designed from the ground up for easy integration, because that's best way to boost the ROI on your sustainability efforts, and reduce the environmental impact of packaging.

Here are five things to know about implementing packaging LCA in your design group – and across your organization.
When the EarthShift Global team set out to develop PackageSmart and EarthSmart, we wanted to create tools that had the broadest possible impact for our clients, and for the planet.
We knew that achieving this goal would require our software to fit easily into existing package design workflows, and identified four essential points we would need to address. We'd like to share them with you, because they provide some insights into best practices for leveraging packaging LCA at your company or organization.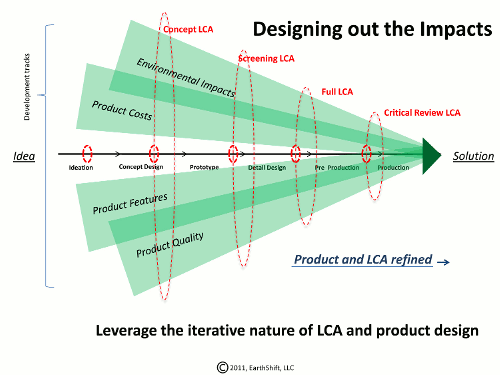 #1 - Support the Creative Process
First and foremost, a packaging LCA tool should be judged by the same standard as any other design tool: it must support the designer's creative process and enable them to do ever-more outstanding work.
Let's say a packaging impact analysis reports that recycled PE is worse environmentally than recycled HDPE. Many designers, especially the ones who are most engaged with their work, will immediately want to know why, so they can incorporate a new insight into their efforts. And if the answer isn't readily available, the designer can feel more confused, instead of better informed.
This is why PackageSmart allows users to dig back through the data and find out the "why" behind the "what." Professionals who gain a deeper understanding of what they're working with will do a better job of solving problems and coming up with new ideas.
#2 - Speak the Designer's Language
Conducting a traditional LCA is a complex process, with dozens of details that need to be addressed, and it typically requires substantial training and experience. Any LCA tool for non-experts needs to make available the knowledge of an LCA practitioner's knowledge, while adapting it to the specialized needs and priorities of the user's profession.
That's why we built PackageSmart to operate in a designer's language, rather than the technical terminology used by LCA professionals. We refer to subassemblies as components and life cycles as packages. Functional units are Consumer Meaningful Units of Measure and processing during manufacturing is conversion. In addition, the complex names for Life Cycle Inventory data have been simplified to make it easy to identify. Company administrators can even rename the data with a company-specific name, (or a translation for users who speak other languages)It's one less barrier, and one more way of helping to ease the integration process.
#3 - Involve LCA from the Beginning
The EarthShift Global team has been providing hands-on training to in-house LCA groups since 2000, helping them adapt best practices to their organizations' specific situations. In that time, we've learned that much of the real opportunity for change comes at the beginning stages of design, where the creative process begins – it's easy to make changes then, and the long-term impact can be huge.
Remember, as a product moves from ideation to conceptual design, prototyping, detailed design, pre-production and finally into production, environmental impacts increasingly get locked in, and changes get more expensive, disruptive and time-consuming. That's why we designed a tool that aids in making environmental decisions early, and help our clients implement it with that in mind.
#4 – Be Ready to Roll Out, Beyond Design
As important as the design process is, some of the best long-term benefits of LCA methodologies come when they are applied consistently and accurately across an entire enterprise, with designers and LCA practitioners in other areas on the same page.
This is why we created the only LCA tools on the market that allow a declared manager to choose their own Life Cycle Inventory (LCI) and Life Cycle Impact Assessment Method (LCIA). This facilitates propagation of consistent methodologies, and the use of simplified tools that can grow with the knowledge base of your company.
"I have taught packaging sustainability since the Spring 2008 to MSU packaging students. The main goal of this course is to evaluate the environmental footprint of product/packaging systems using LCA concepts and streamlined LCA software.
After using many types of software, I have found that PackageSmart does a great job of encouraging system thinking and developing a product/packaging life-cycle perspective among my students."— Rafael Auras, Ph.D., Associate Professor, School of Packaging, Michigan State University
One of the things that makes us proudest of PackageSmart and EarthSmart is that they are equally useful to experts and newcomers – the user-friendliness does not come at the expense of depth and capability. This means that expert LCA consultants and internal gurus can work in the same environment as designers, manufacturing engineers, and other key players, sharing knowledge and methodological choices in an understandable way.
Most importantly, it means that when a final product goes into production, the LCA is done - and done correctly.
#5 – Empower Your Designers for the Future
Good designers don't sit still or stay in a box – they have ideas and want to explore "what-if" scenarios. PackageSmart facilitates this process.
Once a basic package design has been modeled, it can be set up with parameters — much like questions in a carbon footprint calculator. Users can go in and answer the questions for different design concepts and analyze the results. And when they want to see what they're really analyzing, they can dive deeper and explore the model.
With the proper permissions, they can copy the model and start to make changes — to see what would happen, for example, if the design swapped out PLA for PET. As they learn more, they can even start to create new models. Result: a fusion of LCA thinking and the creativity of packaging engineering.

"I was not experienced in LCAs before PackageSmart, yet I was creating full cradle to grave models in the first week."
— Dan Robinette, Director of Sustainability, The Robinette Company
Commercial Subscription
$2500
/First year
Single User Account
$1500, 2nd year onward
One Administrator User
Unlimited Projects
8000+ LCI Data Points
Web based Support
Built-in Reporting Tools
Educational Classroom Subscription
$2000
/First year
Multi-user Educational Subscription
$1000, 2nd year onward
2 Faculty Admin. Accounts
20 Student Accounts
Online Faculty Training
Unlimited Projects
8000+ LCI Data Points
Online Support
Educational Student Subscription
$100
/year
Single Educational License
One Administrator User
Unlimited Projects
4000+ LCI Data Points
Online Support
50% Off Training Classes
EarthShift Global also offers special pricing to non-OECD countries. Please contact us for details.
PackageSmart User Types
PackageSmart Access TypesPackageSmart utilizes a role-based user model, which allows three different levels of access to the application:Administrator – The Administrator role has full access to the application to create, change or delete models, add materials and processes to the inventory and change the number of levels in the model. Administrators can also create report templates, which other user roles can use when creating reports. Administrators are typically the team members best versed in LCA but, don't worry — if you don't think you're an expert - EarthShift Global is here to help.User – User-level access is designed for engineers, designers, and other professionals who aren't specialists in LCA but who wish to create models or iterations of existing models. User-level privileges are similar to Administrator privileges, with the exception of being able to add to the inventory and change the number of levels.Viewer – The Viewer role is "read-only" - the person can interact with existing models, run analyses and scenarios (similar to a calculator) and run reports, but cannot make changes to the underlying models. Viewers are often managers, but can also be engineers or designers who are new to PackageSmart and want to ease into the LCA process.
System Requirements
PackageSmart runs on current and recent versions of Internet Explorer (IE), Firefox, Google Chrome, and Safari browsers on both Windows and MacOS environments. Although it will run on screen resolutions of 800x600, we recommend monitors with a higher resolution for minimal scrolling.
Data Security
Your data is safe and secure with us. Our servers utilize 128-bit SSL certificates so that all communication between our servers to your environment is fully encrypted.
Try Before You Buy – Free 7-Day Trial Account
Interested in PackageSmart but not quite sure? Click below to register for a free 7-day trial account. You'll have full access to the application for 7 days. Run some "what if" analysis on the environmental impacts of your packaging, check out the reporting engine to run EPD reports, or just take a look around.